Our Customer-Committed Dealership is Here to Bring Highly-Rated Hyundai Models to the People of California!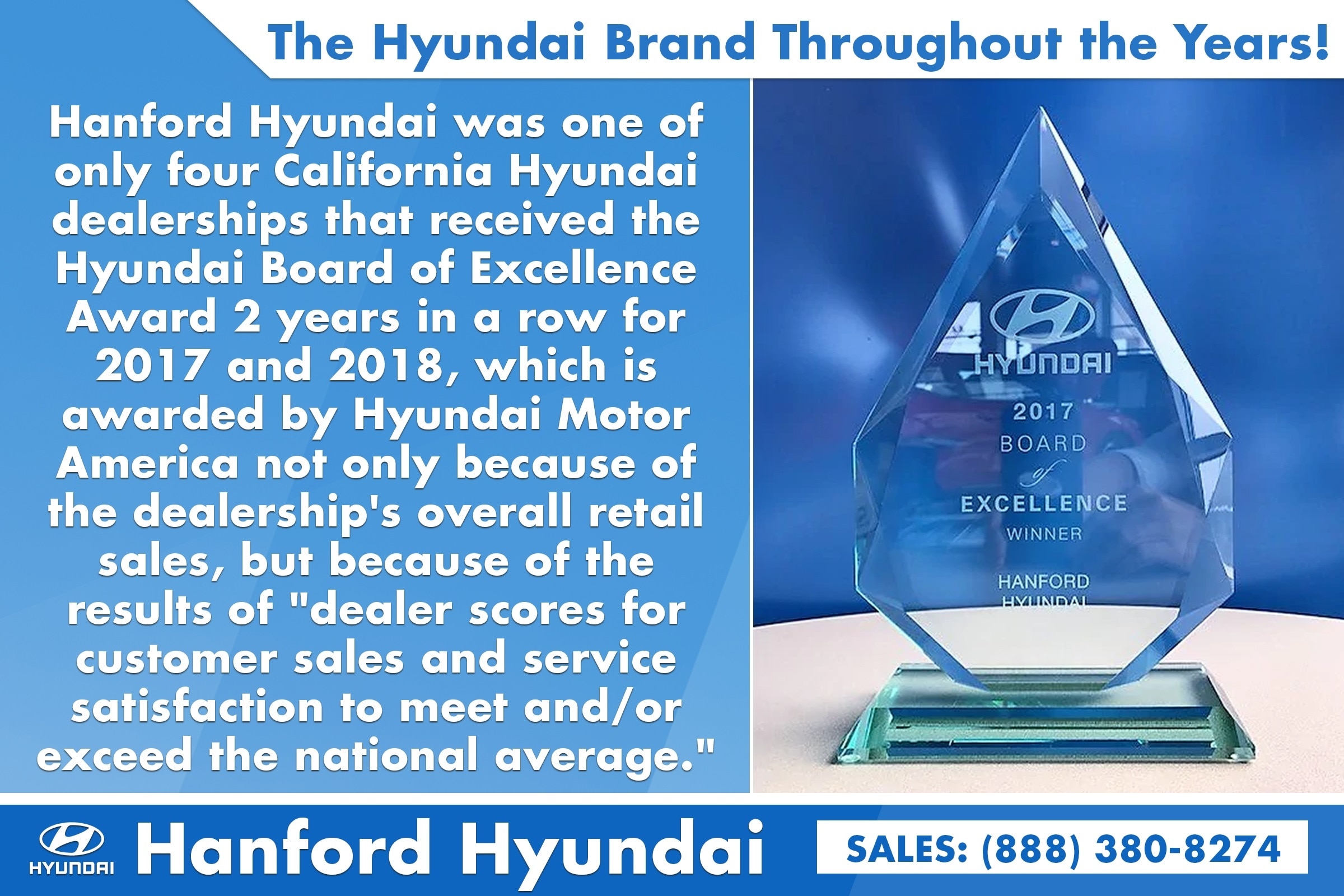 There are many who tend to be discouraged by the concept of buying a car from a dealership and many would prefer to order their next car online or through other impersonal methods. These days, many dealerships have garnered a bad reputation for themselves through overcharging, pushy salesman and other forms of poor customer relations. Well, here at Hanford Hyundai, we want to put your mind at ease when it comes to our dealership as we want to offer you a different type of experience. We work to find a car that fits your needs and your budget, with all sorts of monthly specials and discounts to help you save extra time and money along the way! The Hyundai models, featured in our new inventory and used inventory, include many vehicles that have achieved high accolades over the years by reviewers and critics alike. Our dealership is also very highly-regarded among our loyal customers from Lemoore, Selma and beyond. Come see what we're all about here at Hanford Hyundai at 1990 Glendale Avenue, right here in Hanford, CA
A Trusted Name in Hyundai Sales!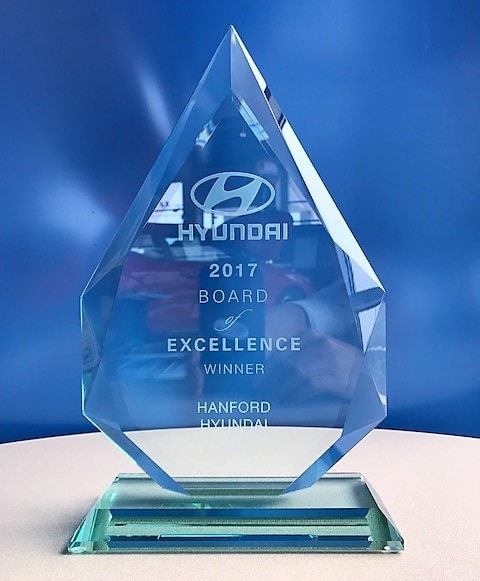 You have high expectations about your car-shopping experience and rightfully so, because this is one of the most important purchases you will make in your life. You should be treated with dignity and respect, no matter what your budgetary needs are, in a stress-free environment that helps find you a car that matches you. That is exactly the experience that you'll find here at Hanford Hyundai. In fact, did you know that the American Hyundai subsidiary, Hyundai Motor America, has similarly high standards for its sales staff? That is why Hanford Hyundai was one of only four California Hyundai dealerships that received the 2017 Hyundai Board of Excellence Award, which is awarded by Hyundai Motor America not only because of the dealership's overall retail sales, but because of the results of "dealer scores for customer sales and service satisfaction to meet and/or exceed the national average."
The Hyundai Brand Throughout the Years!
Since its inception in 1986, Hyundai Motor America because of the models it sells and its many achievements along the way. More recently, many Hyundai models sold in the United States have made many prestigious lists such as the Top Safety Pick and Top Safety Pick+ list by the Insurance institute for Highway Safety (IIHS). Some of the Hyundai SUV models in our inventory, such as the Hyundai Tucson and Hyundai Santa Fe, were featured on the list of 25 Best-Selling SUVs of 2017 by Kelley Blue Book®. Other accolades achieved by Hyundai Motor America include:
The Hyundai Sonata named 2011 International Car of the Year (ICOTY)- 2011
Hyundai makes the list of Top Five Most-Considered brands by KBB Brand Watch- 2010
Hyundai Veloster makes Top 10 Most Anticipated Vehicles of 2011 by AutoGuide- 2010
2010 Distinguished Service Citation, awarded by the Automotive Hall of Fame, is given to John Krafick, Hyundai Motor America president and CEO
Hyundai Elantra named Best Compact Car for the Money by US News and World Report, due to its high safety standards- 2009
We're Here for You!
There's a lot that the Hyundai brand has to offer and there's a lot that we can bring you as well here at Hanford Hyundai, from affordable financing and leasing solutions to high-quality reliable service and authentic Hyundai parts. We're here to meet your automotive needs, so stop by our dealership, test drive a new or used Hyundai model here at Hanford Hyundai! If you have any questions, don't hesitate to contact our sales team during regular business hours at (888) 380-8274. See you soon!